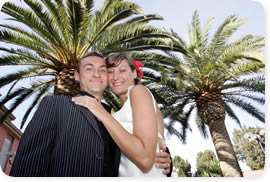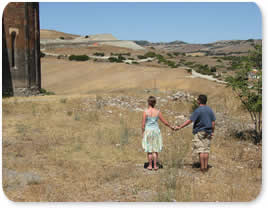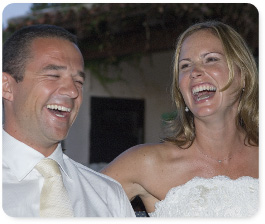 Mario, I would like to thank you from the bottom of both our hearts for what you did for us. Everything that you did for us was fantastic you made everything so easy for us both, you did all you said and more!! To be able to put the most important day of our lives in the hands of someone we had never met from such a distance and have it turn out the way it did, is a big testament to the organisation and effort that you put into the day. Thank you.
Sophie & David from UK
Click
here
to see the photo
Elijah and I would like to thank you once again for all your help during our wedding, when we return to Canada we will send you a proper thank you with our wedding notes.
Other then that, it feels wonderful to be married and in Sardinia, I wish you all the best for the weekend and I will be in touch when we return home.
Once again, thank you for your help and kindness, it was lovely to have met you and have you be part of our special day in Sardinia.
Nicole and Elijah Mullin, CANADA
Click below to read a press release about one of our weddings in Sardinia.
click here to dowload the pdf file
Hi Mario and Francesca
As Whitney and I approach our second year of marriage I just wanted to thank you again for a wedding so amazing it feels like something I may have dreamed and not actually lived.
I will forever be grateful to Mario and Francesca for the best day of my life.
Kevin and Whitney Voisin, LOUISIANA
Dear Mario and Marcella,
Gabrielle and I have just realized that we had forgotten to thank you for organizing a WONDERFUL tour for us. We loved every minute of it and have sworn to return to Sardinia.
We will be recommending you to our friends, all of whom we are telling to visit Sardinia as soon as they can. When we ourselves return, we shall come to you for help again.
Thank you for making our honeymoon a wonderful experience.
Shaun & Gabrielle Hullis, UK
Ciao Mario and Marcella
We will be sending a thank you card to you shortly but just a quick note to say thank you very much for all your help with the wedding.
We loved every minute of it! and Villa las Tronas was heaven! We were really please with Il Vicere as well, there was so much food and it all looked lovely.
Grazie!!
Carla and Andy Melia, UK
Hi Mario and Marcella
It was really good to meet you both whilst in Sardinia and, as you could tell, we both had an amazing day.
Dear Valeria, the photos in the link you sent are stunning and we both can't wait to see all of the other photos as well.
It was a pleasure meeting you and having you part our special day.
Warm thanks to you all.
Glen and Michelle Beckett, UK
We would like to thank you and Valeria most sincerely for all the work you put into our wedding. We would especially like to thank you for how generous you were with your time each time we met with you. We were so impressed when we met you first, that you dedicated a full day of your time to spend with us without any obligation. Our wedding day was amazing! The mass went so smoothly thanks to your professionalism and enthusiasm and we really enjoyed and appreciated how much the locals welcomed us and took part in our day, that was really special! Walking through the town afterwards was a really nice touch too, our guests really enjoyed it and we got some great pics! Also all of the suppliers you recommended - the florist, the photographer, the chauffeur were highly professional, friendly and did a great job!
Thank you for everything, our wedding day was better than we dreamed of!
Thomas Moran and Leonie Byrne, Ireland
When I was looking for a wedding planner in Italy, I wanted someone who was efficient, organised, personable and friendly, Mario proved he was all of these.
I am an event organiser and had extremely high standards for my big day. I searched Google for wedding planners in Sardinia and had 9 responses, 8 of them literally sent me a brochure by return email, Mario however was different. He was the only one who bothered sending me a personal email and suggested we talk. Talk we did! and for a whole year as we set about organising my wedding. On the day he was cool, calm and collected and went above his call of duty to ensure everything went smoothly. His recommended suppliers were exceptional: all lovely people who delivered everything as promised.
If you are getting married in Sardinia, then Mario is your man!
Nick Magliocchetti and Emma Boardman, UK
We want to thank you for all the nice thank you notes that you sent us!
Mario Delitala, Managing Director

Copyright 2010 Motus in Sardinia - All rights riserved