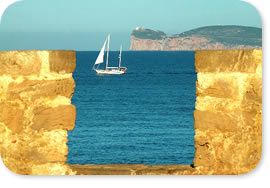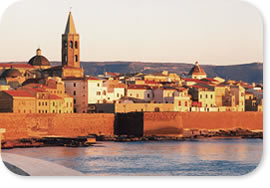 Alghero Package

Bound on three seaward sides by great stone bastions and guarded to landward by a series of stone towers, Alghero′s landmark churches and small squares are nodes in a network of narrow, paved and cobbled ways - Italian, but with a strong flavour of Spanish and even a dash of Moorish. In 1354, this corner of Sardinia became part of the kingdom of Aragon. It was repopulated by Catalans and remained Spanish for four centuries. A weathered Catalan coat of arms adorns the old tower of Saint Erasmus and another tower, of distinctive octagonal form, is called Torre del Cutxos, the Tower of Dogs, after the strays that were once accommodated there.
Sublime by day, Alghero becomes enchanting at nightfall, when swifts wheel and scream among the evening stars before iron lamps cast soft pools of light between drapes of shadow. In the cool of evening, crowds fill the Piazza Civica and the bazaar in Via Carlo Alberto.
Use of Town Hall with mayor or representative to perform the ceremony
Documents assistance
Accommodation B&B for 7 nights at Hotel**** for the bride and groom (private beach + swimming pool)
Hotel booking for all guest with 5% discount on list price when required
Hair and beauty appointments for Bride
Flowers Bouquet for the Bride and Brides Maid, buttonhole for Groom and witnesses
Flowers* for town hall and restaurant
Transportation to and from Ceremony for Bride and Groom
Reception at the Hotel **** for 25 people (including aperitifs, pasta, main course, side dish, wedding cake and wine)
Music during Reception
Photographer full day, all photos on CD
Weddings in Sardinia′s Event Manager (s) in attendance
Marriage certificate and all taxes included
Price:€ 8.100

Beach party after dinner available on request!

* Please notice Alghero is only available for Civil Wedding into town, or for Religious wedding within a 30 ms. drive away transfer.
Copyright 2007 Motus in Sardinia - All rights riserved